The Types of Collars for Dogs
 What do we need to know about collars
Mike Dogtrainer
06.28.2013
Category: Dog supplies

  Collar is a necessary attribute of every dog. Variety of dog collars nowadays is impressive, from common leather stripes to delicate chains of precious metals. What kinds of collars for dogs are there? We will not go into details, but view general types of dog collars. Collars for dogs are divided according to the material they made of and the way of their use. Dog collars are made of leather, nylon and metal chains. Sphere of use of dog collars is very wide, beginning from just keeping a dog under control and up to special service training.

  Leather collars for dogs

  Usual leather dog collar serves for walking of a dog, for training or just like an accessory of your dog. We should choose collars of different width for different dog age, breed and size. Broad collars are suitable for large dogs. It is better to use one, that is round in cross-section and made as a choke type collar. Such a collar you may fasten as a collar and as a choke up to your choice. Leather round choke collar should be firm.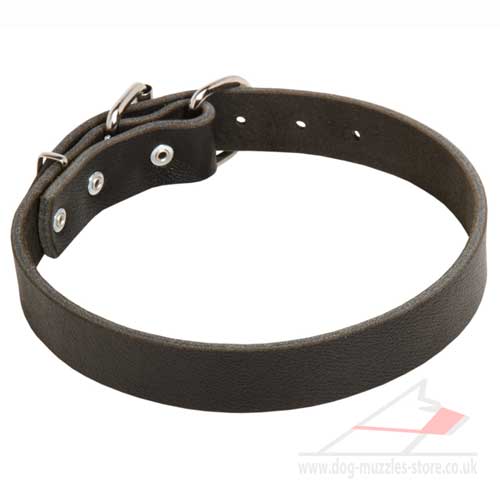 Now let's review demands for dog collars. It is better to buy 2 ply leather collar for dog. If you take a collar made of fake leather, you waste your money. Leather should be thick, without cuts and no way over-dried. Rings and rivets should be cast. There should be stitched a plate, an ID badge or an ID tag tube on a collar. ID tag tube is a little tube where you may put a paper with your address and phone number (addresser). At our dog store we have a leather collar with ID plate where you may put the necessary info.
  Metal dog collars

  These are collars made of metal with different link size, small and large link sizes. As a rule they are made of different metal alloys. Metal chain collars made of several chain rows look attractive at short-haired dogs. Look at the collection of our metal choke dog collars here.

  Metal choke chain is a collar, tightening when lead is pulled. It serves for training in the order to strengthen action while pulling and also as a tool of safety while dog transporting. Choke construction is used also for pulling collar and a ringer. These types of collars have, as a rule, small links. Not tightening part, if there is such, should be a little less than a neck circumference. If it is larger - the meaning of the choke is lost. Construction of a lace-choke and of a pulling collar is easy - it is a lace or a chain with two rings on the ends. The length of a collar should be approximately appropriate for a dog to put a head though it while taking on, but not too loose, in order to  not fly away from dog's head itself when a dog bends it. Of course, the length of a choke should not let a dog lose it, bending its head while jumping. Rings on the choke collar should glide free, in order to make the collar fast-reacting. Pulling chain with long links cuts dog fur less, but rattles much stronger. There are constructions, combined with swivel. Double and triple chain collars are more attractive, but less functional. the same we can say about choke collars made on the principle of a "strict" collar.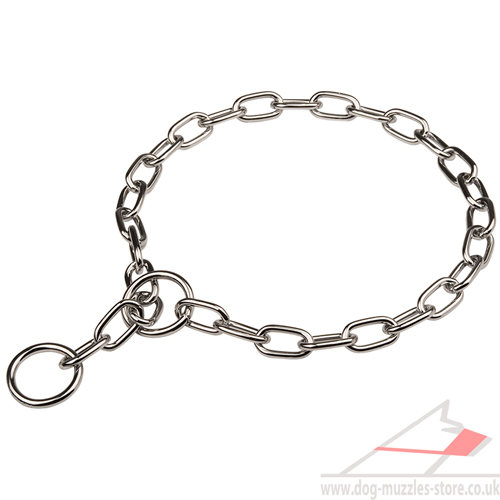 Prong or pinch collar is made on the base of a choke. It serves to intensify influence on a dog while training. As a rule, it is not important how frighting is the length of spikes of the par force, it is more important to use it correctly. Everyday wrong use of a pinch collar leads to getting used. We often can see dogs walking outside in prong collars whose owners even do not think to pull them. And a dog does not care if there is a prong collar or not - it got used to it and pulls its owner forward with all its strength. Plate prong collar needs some re-make. Limitations of a strict collar are short thorns that are not suitable for dogs with long fur. Links may bend, if a dog is very strong. Nowadays such prong collars are not so popular because there appeared wire pinch collars. "Wire" pinch collars, especially their imported constructions, have different thorn length and direction. As a rule, they are equipped with a chain, and some also with a snap link for comfortable taking on-off, especially it is comfortable for long shaggy dogs.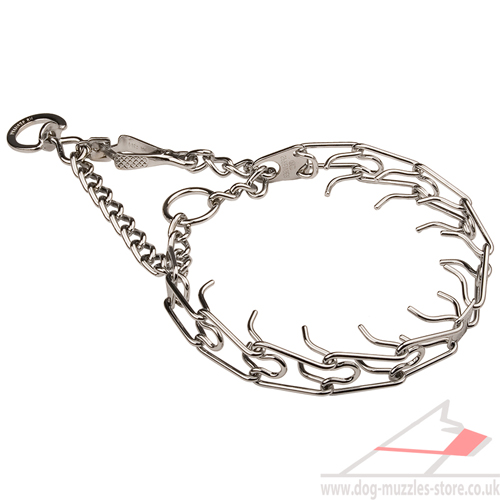 Limitations: chain is not very comfortable, if you need to catch a dog closer to its neck. For intensifying of a collar you can put a synthetic stripe through its links and fasten it to the ends of the collar. This way a collar gets stronger, and is guaranteed from falling apart to separate details. If pinch collars are badly worked out, rough, they can cause injury to a dog. If there is a leather stripe instead of a chain, it does not glide well and smooth, and that's why a collar reacts not enough dynamic.

---