HERM SPRENGER dog products review
Herm Sprenger Dog Supplies
In 1872 Herman Sprenger has established the plant for riding equipment. The range of products have grown and includes equipment for sailing and dog accessories. Nowadays Herm Sprenger GmbH is a family business with 160 employees and headed by the fourth generation of the founder. Herm Sprenger products are successfully exported all over the world.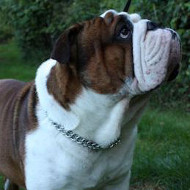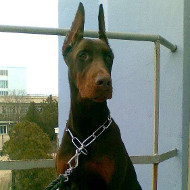 All products marked by HS logo are made at the plant in Iserlohn (Germany). Thus, the buyer may be sure of the quality of products labeled by "made in Germany".
The point of the company is to reach high quality standards of the produced items. It is gained through use of the best materials and education of professional employees and global quality control made at any stage of production. It is tested by special mechanisms based on detailed company specifications.
Professional team with detailed knowledge of the business supports each branch of the products: for sailing, riding and dogs.
Herm Sprenger GmbH produces tools that establish world standards. It is achieved through constant and long time collaboration with professionals, designers and the user.
Herm Sprenger products are available at almost any good retail store. The range of tools proposes excellent quality at affordable price. Pleased customers is the priority of the company.
The quality control starts from the right choice of the wire. The technical standards are very high and the wire should correspond the demands of durability and tensile strength. The wire is formed into a chain through electric welding. The joints go through bending test before plating.
Stainless steel is a quite expensive metal but it has many advantages compared to other platings of steel chains in durability and tensile strength. It is a perfect material for use in rainy weather, for dogs who swim regularly, even in salt sea water.

Chrome-plated steel Herm Sprenger collars are known for their shiny and durable surface. While other producers just make the plating, Sprenger use many processes of glass polishing and cleaning to eliminate non-metal oils and grease from chain. The advantage is that the polishing of surface becomes more sleek and has astonishing bright gloss. But it happens only after the nickel-plated chains are tested for bending and chromium adhered.

Curogan has a very nice looking goldish color. It is a copper-tin alloy with a high level of copper and some other constituents that improve durability and give the properties of steel. Curogan is absolutely nickel free, thus perfectly fits dogs with light fur (nickel may leave marks of dog fur) and any dogs that suffer from allergenic reactions for nickel (nickel may provoke irritation and skin rash).
Choose a premium quality chain collar for your dog at our collection of Herm Sprenger dog accessories.

---