What size of dog collar do I need
Here we will explain how to measure a dog for collar size for various types of dog collars.
How to measure dog for collar with buckle

Measure the neck size (circumference) of your dog.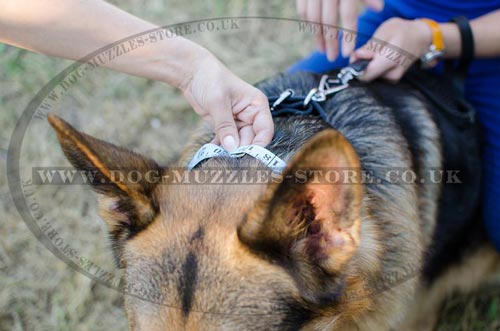 What is dog collar size? - The neck circumference of your dog will correspond to the length of the collar os the center hole (C).

How to loosen dog collar? - You have additional holes D, E for the case if your dog grows or gains weight.

How to make dog collar smaller? - A, B holes are for the case if your dog loses weight.

How to measure dog collar size for a puppy or a young dog that grows? - Write us dog's age, sex and breed to take into account all the nuances while picking up a collar for your dog.
How to choose a choke dog collar size
Choke collar is taken on a dog through its head. It is important to measure dog head circumference in the widest area, as you see it on the scheme below.
Add 2-3 inches to the neck circumference and you get the size of choke collar you need for you dog.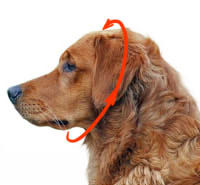 Measuring a dog for pinch/prong collar

How to put on dog prong collar? - Dog prong collar is taken on a dog released. Release a buckle or unfasten one link to take it on dog's neck. Do not take it on through dog's head unreleased.

How to use prong dog collar? - Dog training collar with prongs is worn on dog's neck right below its snout, but not low on the neck like a usual collar. That's why you need to measure dog neck right below its jaw and behind the ears.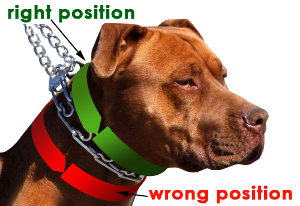 Take into account dog breed and weight while choosing wire gauge of prong collar for you dog. Specialists recommend definite wire gauge for different dog breeds and weight. Choose the right wire gauge here.

If you have any questions, our specialists will answer with glad. Contact us: info@dog-muzzles-store.co.uk