Sprenger Dog Chains
Best dog collars. All you need for your dog training is here.
Dog choke collars are produced of various metals: steel (inox, chrome-plated, nickel-plated, antique black), brass, special hypoallergenic alloy curogan. These dog chain collars look like real adornment on a dog, reflecting sunlight. That's why they are often used at dog shows.
We propose quality, certified, original Herm Sprenger chain collars! Choose quick delivery and the best price from the producer directly.
We will never leave you until you are satisfied with your purchase. Exchanges are provided if needed.
If you have any questions as for the choice of dog choke collars, do not hesitate to contact us: info@dog-muzzles-store.co.uk

more info....
NEW ARRIVALS - Sprenger Dog Chains
Model: HS10#1049 Stainless Steel Fur Saver 51604 (55)
What is a dog choke collar?
Dog choke collar is a collar with 2 O-rings. One ring is called "dead" and is intended to attach a dog lead. Another one is called "live" and it glides along the collar choking dog's neck when a dog pulls and tightens the collar.
How does dog choke collar work?
Choking makes a dog stop pulling. Also it is a sign for a dog to stop undersired action. A handler pulls a lead to choke a collar and make a dog understand the command.
How to choose a choke chain? Types of dog chains
Dog choke collars made of chain differ in form and size of links. Long link fur saver is more safe for long haired dogs. It does not cut dog fur.Some coats of wire may color dog fur. It is better to try a dog chain collar before taking it to a dog show. We propose quality dog chain collars made of top quality alloys and metals that do not color dog fur. If you are looking for a hypoallergenic dog chain collar, we propose a nickel-free curogan chain collars for dogs. It does not color dog fur and does not cause irritation of skin.
How to choose dog choke collar size?
Dog choke collars are taken on a dog through its head unfastened. That's why collar size should we a little wider dog's head in the widest area. Measure your dog acording to the scheme and add 1-2 inches. It is the size of a choke collar for your dog.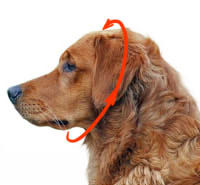 Important features of quality dog choke collars:
Solid, quality welded links.

Even coating.

Smooth polishing.

Rust-resistance.

Dog choke collars by Herm Sprenger have quality seals and trade marking graven at the rings.

Our dog choke collars resist to any weather conditions. 
Reliability and quality of dog choke collars are proved and tested.
Dog chain sound makes noise at pulling, that may be used in training points.
You champion dog will look brilliant wearing a chain collar at dog show. Dog choke collar does not distract attention from a dog and does not divide dog's neck visually.
Choose dog chain collar by the wire gauge, intended for definite dog strength and weight. The intended use of dog choke collars is mentioned at the description of each product. Look here how to choose a proper size of dog choke collar. It is important for us to get the head and neck circumference to choose the best fit size of dog choke collar for your dog.

Dog choke collars are efficient tools for dog training. These articles about dog training may be useful for you:
Aggressive Behavior In Dogs | Dog To Dog Aggression
Dog Training to a Collar and a Leash
Dog Behaviour Problems. Top 10
Dog Obedience Training. Basic Dog Commands
Our bestsellers: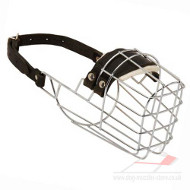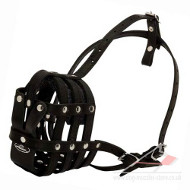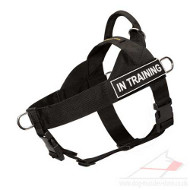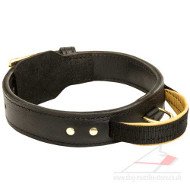 You may also like this soft leather dog choker collar:
---