Shar Pei Muzzles
Each Shar Pei muzzles UK are especially designed for snout form and sizes of Shar Pei dog breed. Shar Pei muzzles choice is based on individual snout sizes of your dog. Choose the best dog accessories for Shar Pei dog breed at our online dog store.
We understand that it is not easy to choose a dog muzzle online. That's why it is very important for our specialists to get the correct sizes of your dog. We created a simple and detailed instruction How to Measure a Dog for a Muzzle.
We will try our best to provide you with a perfectly fitting Shar Pei muzzle. Exchanges are provided if needed.
We propose fast delivery and the best prices from the producer directly.
If you have any questions or need an advice of our specialists, we are always ready to help you. Contact us: info@dog-muzzles-store.co.uk

more info....
NEW ARRIVALS - Shar Pei Muzzles
Read useful information here:
How to train a dog to a muzzle?
If a dog is not willing to wear a muzzle.
Top 10 dog behavior problems and their resolving: dog barking, dog chewing, digging, separation anxiety, inappropriate urination and defecation, begging, chasing, jumping up, dog biting, dog aggression.
If you or your friends have a Shar Pei Club, Shar Pei dog breed forum, Shar Pei web site or Chinese Shar Pei Facebook page, we will be happy to exchange links and collaborate! Mail us to info@dog-muzzles-store.co.uk
Shar Pei Dog Breed Information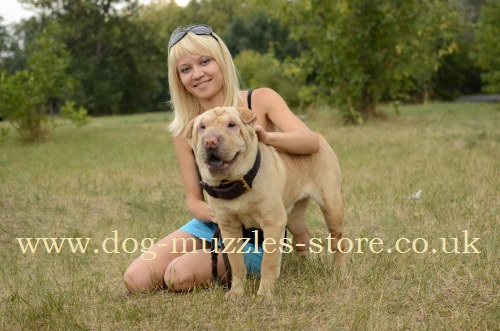 Shar Pei seems very cute and clumsy at the first sight. The main Shar Pei feature is its wrinkles. For these wrinkles many people all over the world adore Shar Pei dog breed. But this is not the only feature to love Shar Pei. This dog breed has many other advantages.
Shar Pei dog breed has ancient Chinese origin. In all times Shar Pei features are perfect guarding, bravery and strength. In spite of its middle sizes, Shar Pei is a perfect guard dog for your family and home. Shar Pei is calm, self-confident, with regal bearing, witness and loyalty.
Originally Shar Pei wrinkles served it to protect from hurts in fights. Shar Pei is a fighting dog originally.
Shar Pei size
: 18-25 kg weight, 45-50 cm height.
Shar Pei life span
is about 9-10 years.
Shar Pei Temperament
Shar Pei socialization needs to be realized from the puppy age. Other way it tends to become
aggressive
. Generally, Shar Pei is friendly to other pets. But some Shar Pei dogs express
aggression to other dogs
. Shar Pei is easy trained to be a perfect companion dog, but initially they are
aggressive dogs
.
Shar Peis are very devoted to their family. They do not like strangers to be present at their territory. Shar Pei is very selfish and will never share the dearest, including his owner. That's why Shar Pei is a perfect guard dog for the owner.
Perfect Shar Pei feature is its patience. If you have to leave a dog home alone, do not worry for the furniture and boots. In spite of its loneliness and sadness of being left alone, Shar Pei will never spoil and chew your things. A dog will patiently wait for you to come back.
One of the main bases for Shar Pei witness is its self-confidence and independence. That's why Shar Pei is not to be caged. Shar Pei needs to feel its importance and ability to control the whole territory of the home.
Shar Pei dog breed is recommended for people with a strong will and character. Shar Pei itself has a strong temperament. It requires a proper leader.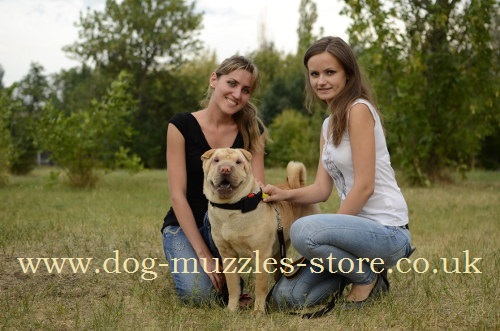 Shar Pei Care
Shar Pei dog may live in an apartment, as it has a calm temperament. In this case the main requirement is that a dog needs enough physical exercise. Shar Pei should be walked twice a day for at least an hour. Shar Pei walking needs to be active and long.
Shar Pei needs walking on the grass and firm surface as well to have its claws rubbed off naturally. Shar Pei would enjoy biking, jogging and games with a ball.
Get your Shar Pei acquainted to other Shar Peis from the puppy age. They will teach him the right behavior and socialization.
Read about dog socialization to other dogs
.
Shar Pei care presupposes dog brushing once-twice a week. As for the water contacts, Shar Peis do not like it in any display: pool, pond, river or even rain. But in spite of dog complaint it has to be washed at least once a month. Do not let water get into dog ears to avoid inflammation.
It is not recommended to used shampoo and soap because of Shar Pei fur features. Dry dog fur carefully, especially its wrinkles to avoid skin irritation and diseases. Clean dog ears once-twice a day and wipe dog eyes and nose. Cut dog claws once a month.
Read more about dog care
.
Shar Pei feeding
should be balanced. Feed a dog with a special dry food with supplements, vitamins and minerals. When a dog reaches 1.5 y.o. age, move forward to a traditional dog feeding. Ideally it contains 2 types of meat (beef and chicken), several types of vegetables and groats. Shar Pei food should be dry or dense. It is not to be fed with soups or broths absolutely. Pamper it with eggs, fish once a week.
Feed Shar Pei twice a day. If you notice your Shar Pei to gain excessive weight, reduce carbohydrates in dog feeding (cereals).
Read more about dog feeding
.
Look at a lovely Shar Pei with our nylon collar at the video:
---